It's the most wonderful time of the year! No, no, no! Not THAT time of the year! Dear God, please no more snow! No, it's Sephora's bi-annual sale for Rouge, VIB and Insider members! If you're a make-up junkie like me, you've been waiting for this for the last 6 months. Trust me, I know. You don't need to say it. I have enough make-up! What else could I possibly want or need from Sephora?! I can't help it. I'm like Ariel from the Little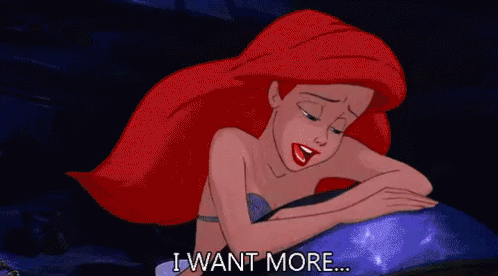 Mermaid when it comes to make-up and skin care. I've got gadgets and gizmos aplenty, but I want more!
So in the spirit of no judgements and everyone reading this post having the same sick Sephora addiction that I do, I thought I would share what goodies I purchased this time around. I'm actually super happy with how disciplined I managed to be. Like don't get me wrong. It's still pretty bad, but could have been way worse. There are so many amazing products on my wish list and new Spring launches I would love to get my hands on that reigning myself in as much as I did was not an easy task.
I've broken this haul down into three categories:
Repurchases: staple products I just cannot live without
Wish list products: items I've had my eye on for some time and finally allowed myself to purchase
Impulse buys: products I didn't intend on buying or even knew existed before I started browsing Sephora's website, but that I bought anyways (stop, I can hear the judgement through my screen!)
I'll admit, my repurchases were not super exciting. But honestly both the Urban Decay All Nighter Long Lasting Makeup Setting Spray and the Too Faced Born This Way Multi-Use Sculpting Concealer are holy grail products and I don't know that I can be without them at this point. I use both of these on a daily basis and need to always have them on deck. I did a review on the Too Faced Born This Way Concealer last year and remember not being all the way crazy about it at the time. I think the more yellow undertone of the shade I purchased, Swan, threw me off a bit because in the past I was used to using concealers with more neutral undertones. However, this was one of those products where the more I used it the more I fell in love with it. The formula is super creamy and not too thick or too thin in consistency. It gives great coverage without being too much or caking up on the skin. I have also come to really like the undertone of the shade Swan as well. I've found that the yellowish tone really helps to neutralize any dark circles under the eyes or redness in any blemishes I might have. As for the Urban Decay All Nighter Setting Spray, I mean, what can be said?! It's perfection in every way. The spray is fine and doesn't feel like a fire hose and the product itself actually works. My make up always stands a better chance at a full day's wear with this setting spray. I just love it so so much!
I just couldn't let the sale pass me by without purchasing a few products off of my wish list that I've really been wanting. You know, the age old "treat yourself" and all that! Since Sephora sent me my order in staggered shipments, I've been able to try some of these products out over the last few days and give you a some of my initial thoughts.
Clarisonic Mia Smart 3-in-1 Connected Sonic Beauty Device: I've had my eye on a Clarisonic for literal years. I don't know if I can accurately express how much I have lusted after this product for most of my adult life. I knew that when Sephora's spring sale came around this year, I was going to pull the trigger and finally purchase one. I actually got a bit more than the 20% off that Sephora was offering because Clarisonic has a few select versions of the Mia on super sale. I ended up purchasing mine for about $172 CAD (regular price $229 CAD) and could not be happier. I took it as a literal sign from the universe that I was finally meant to have a Clarisonic in my skin care routine. I purchased the pink version because I thought it was so girly and so me and I just love how it looks. I've been using my Mia Smart for a few weeks now (this was one of the first items that was shipped to me) and honestly I am deeply in love. In fact, I'm kicking myself for not purchasing one years ago. I think I'll be doing a full post on my Clarisonic and the difference I've found its made with my skin, so check back for that in a few weeks.
NARS Highlighting Powder in Fort De France: this is another product I've had my eye on for a while. Nars powders are so soft, buttery and lux, so when they came out with highlighting powders I knew I had to give one a try. Although I'm still playing around with this one, I do have some thoughts. Unfortunately, this highlighter is not as bright and blingy as I was hoping for. I'm not sure if the shade Fort De France is just a smidge too dark for my skin tone or what the case is, but it just doesn't provide as much shine and I thought it would. I have to be really careful with this one and not go overboard. Bit of a disappointment, but live and learn, right?
The Ordinary Caffeine Solution: I really wanted to invest in a serum that was specifically formulated for the eyes. Now that I'm in my 30's I'm really trying to prevent fine lines and dark circles for as long as I can. The Ordinary's Caffeine Serum seemed to tick all the boxes, containing highly-purified epigallocatechin gallatyl glucoside (EGCG) from green tea leaves to help with those common pigmentation issues we seem to get around our eyes with age. It's going to take me a few more weeks to fully form an opinion on this serum, but so far I really like it. It feels very nourishing on the skin and does not contain sent or burn my eyes. So far so good!
The Ordinary Buffet Serum: I've been on the hunt for my perfect serum for a little while. Around the time that I placed my order for the Sephora sale, I was running low on the serum I was using and decided to try out something new. I had heard quite a bit of buzz around The Ordinary's Buffet Serum and decided to give it a try for myself. Again, I will need to try it out over a few more weeks to really form an opinion. But I can say that I don't think this serum is the one. While super light weight and is not fragranced, it does leave my skin super tacky upon application. Normally a little tack wouldn't bother me, but this is pretty noticeable and boarders on sticky. I prefer serums that sink all the way in and leave my skin soft and glowy. So, not a total dud, but still on the hunt for my perfect serum!
What would a Sephora sale be without some impulsive purchases? Right? RIGHT?! Please agree so I don't feel so absolutely guilty! Oh never mind, I know. I have a problem. Send help.
Cover FX Monochromatic Matte + Shimmer Blush Duo in Soft Peach: How gorgeous are these?! Cover FX came out with these new duos which contain a matte blush on the left and a luminous highlight on the right. So beautiful. I can use the highlighter on my fair skin with a very light hand, but my favourite way to use this is as a blush topper! So glowy. So pretty! The shade I purchased is Soft Peach and it is perfect for the spring and summer. It gives the cheeks just the right amount of pinky peachy colour and is great to use on make up or no make up kind of days. So glad I threw caution (and my wallet) to the wind and picked this one up!
Make Up For Ever Let's Gold Eye Palette: It's been a minute since I purchased a new eyeshadow palette. I have so many already in my collection, but I just could not pass this one by. Make Up For Ever shadows are some of my favourite formula. They are usually so creamy and pigmented and this palette is no exception. Why aren't more people talking about this?! This palette is literal goals (or golds, haha, get it. punny dad jokes, sorry). I love that I can reach for this product for a neutral every day work look or for a sultry night out look. Super versatile and I'm so happy to have this in my collection.
Well, there you have it. My Spring Sephora sale haul! Overall, I'm super happy with everything I purchased. Did you purchase anything from Sephora's Spring sale? Were they old loves? Impulse purchases? What were some of your favourite finds? Leave your thoughts in the comments below!